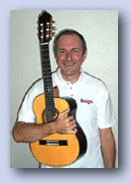 Celebration Suite is UK composer Derek Hasted''s fabulously majestic and joyful work designed to please audiences and to be suitable for guitarists of intermediate to advanced ability.
Bruce Paine''s premiere recording of the work is also available on Second Recital for Guitar.
The Composer/Arranger
A lot of guitarists tend to play solo repertoire, with only themselves for company!  Not so Derek Hasted, who positively champions ensemble music. He has arranged over 275 pieces for guitar ensemble and for guitar orchestra.   He has also arranged for a cappella voice and for brass ensemble. Derek was winner of the Portsmouth News "We Can Do It" Award in 2002, and was commissioned by the Associated Board of the Royal Schools of Music to write pieces for their new Music Medals scheme, some of which were premiered in 2005 at the Guildford International Music Festival. Derek's interests encompass all styles of music; he plays brass and piano as well as guitar and other plucked string instruments.  Derek also has the world''s most distant duet partner - Bruce Paine - 18000kM away....
Celebration Suite 
A love story in music - Captivation, Contemplation, Consolation and Celebration - this accessible suite for Intermediate/Advanced Solo guitar has been composed with the audience in mind. Strong melodies and an almost classical construction make this a suite which has generated much delight wherever it has been played. It offers endless possibilities for interpretation, but the overall mood is one of joy and majesty, which even penetrates the slow D minor chords of Consolation. 
Check out Bruce Paine''s interpretation of all the above works on his CD Second Recital for Guitar 
Web Links
Check out the following UK websites to find out all about Derek Hasted and his guitar orchestras:
Derek Hasted''s Guitar Orchestra Website