Bush Concert Experience: 16th and 30th March 2009
It was a bit difficult to arrange for a New Zealand Herald or NZ Listener magazine reviewer (ha ha) to attend a slightly remote recital location, so I''ve opted to write my own account of the occasions.
My sister Kathryn Erikson and brother-in-law Chris Erikson invited me to participate in a native bush regeneration project on their property near Leigh and the Goat Island marine reserve.  The job involved clearing noxious weeds that choke the natural wetland areas and native bush.  There were also native tree seedlings to be relocated for a better chance of survival, and bush tracks to be made.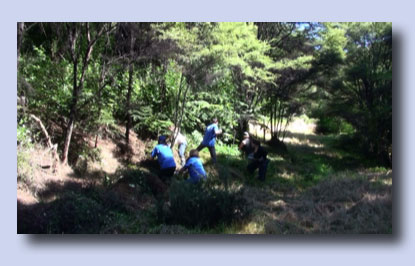 Volunteer workers from the BNZ were scheduled to join in and provide more man-power.  To make the experience a little more interesting for them I was asked to provide a guitar recital during their lunch break.
On the second day Graeme Dingle (famous New Zealand adventurer and mountaineer) and his wife joined us to help clear Tradescantia Fluminemsis from the base of his property which shares a common border with the Eriksons'' land.  It took great effort to move the Tradescantia and every small bit of help was appreciated.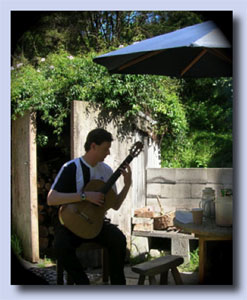 I was a bit worried that after a couple of hours of chopping weeds and digging holes with a spade that my fingers would not be in good shape for playing the guitar.  It was a relief to find that nothing had changed.  The biggest challenge on the 16th was to find a place to sit and play guitar without being smoked out by the barbecue fire!  On the 30th the challenge was to find a suitably shady spot to escape the sun, however it all worked out well.  I played my solos - including my own compositions inspired by New Zealand scenery -  without mishap to a most appreciative audience.  Liz and Pete, who made their lawn and BBQ area available as a picnic spot were keen to have me back for Christmas!
We had two contrasting days in terms of the weather.  The day of the 16th was grey and a bit damp whereas the 30th brought the best day I can ever remember.   The over-all experience was excellent and a fine example of how people can work happily together towards a common goal.