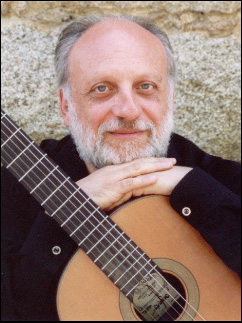 Argentinian guitar composer Jose Luis Merlin's Suite del Recuerdo is dedicated to the memory of many thousands of "disappeared ones" from the days of the military junta in Argentina. This is very haunting, romantic music, using typical South American folk dances and melodies as the basis of five separate pieces entitled Evocation, Zamba, Chacarera, Carnavalito and Joropo.
A translation of the sheet music dedication page explains the significance of the music to the composer.  "This is an homage to memories, my memories.  To the collective memories of my people living in nostalgia, tormented, anguished, happy and hopeful. Memories from the country, in San Luis, with all the smells and sounds from the country.  It is like looking inside yourself in very profound silence.  Memories of afternoons with grandparents, aunts and uncles, parents, brothers, sisters, cousins. All enjoying each other, sharing our feelings and playing guitar., sitting in the back yard drinking wine, under the vines. Lots of them are not here anymore. They are in my memories."
Jose Luis Merlin has gained world wide recognition following the release of critically acclaimed guitarist Jason Vieaux's CD featuring Suite del Recuerdo.  The recording has inspired other guitarists, and indeed myself, to play and record the work.  Filled with "catchy dance rhythms, fluttering dynamics and flashy riffs" the work is a real audience pleaser.
My performance of the work can be heard via my 1998 CD recording Second Recital for Guitar.