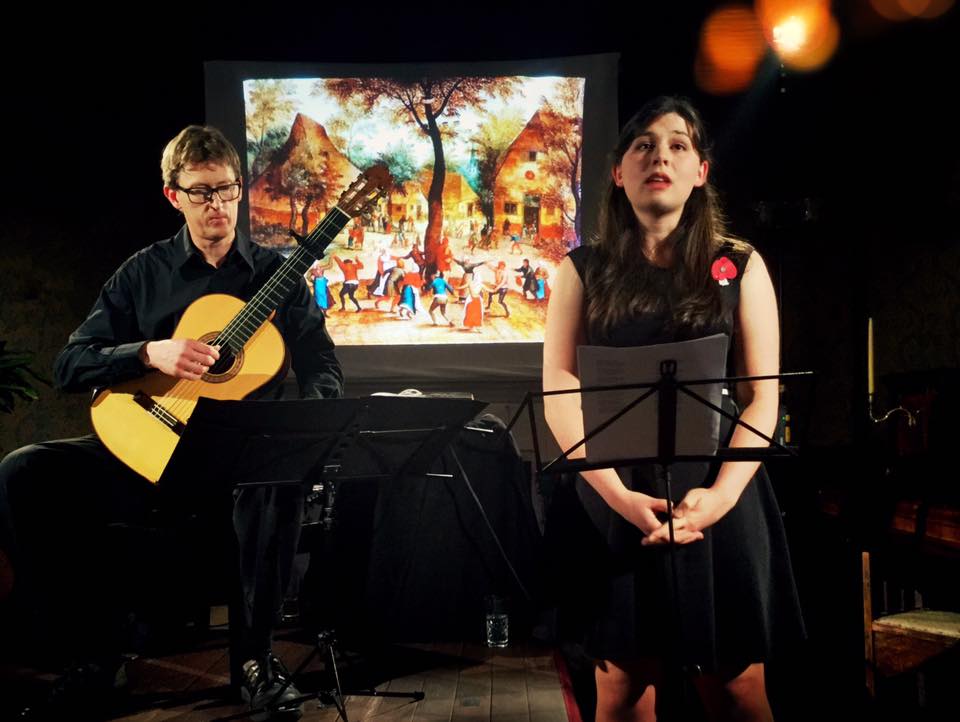 A week has passed since "Duty and Delight" - a classical guitar concert held at the historic venue Alberton.  I have been encouraged to write about it and while it seems strange to have to review my own concert, these days sometimes it just has to be done as professional reviewers rarely attend local community productions.  On this occasion it would be wrong not to keep a record of such a special event.

One reason why the concert was so special to me is that my father Selwyn, who sadly passed away in October this year, would have loved it and he had everything to do with my understanding of my family's history and the Gallipoli story which featured in the programme.

Seventy two guests attended "Duty and Delight" and stayed for the full concert duration, approximately 2 hours.  Some had travelled a distance to attend, such as the couple from Te Awamutu who drove up having only just heard about it on the day.  Others took the ferry across from Waiheke Island and there was even a contingent from Auckland's North Shore prepared to cross the harbour waves!  A couple on holiday from Perth Australia, drawn by their interest in historic venues and love of music, also chose to attend.

For most of the performance - apart from a picture frame falling from a wall, a mobile phone interrupting proceedings and the occasional cough - you could hear a pin drop.  The audience members followed the performance intently - either that or they were asleep although judging from their faces observing proceedings, that was not the case!

The opening items, a set of four songs sung by soprano Imogen Abernethy and accompanied by me on guitar, were written especially for the 100th anniversary of Gallipoli, and are a tribute to a group of ordinary young men from the farming district of Roto-o-rangi in Cambridge, New Zealand.  It was the premiere performance of the song cycle of which I have written previously.  They are my own compositions and the song lyrics came from texts written by those who got caught up in the terrible military campaign we refer to as Gallipoli.  It is hard to gauge how an audience will respond to such challenging music on a sombre theme but the feedback received afterwards was that it was a fitting tribute and the theme was handled well.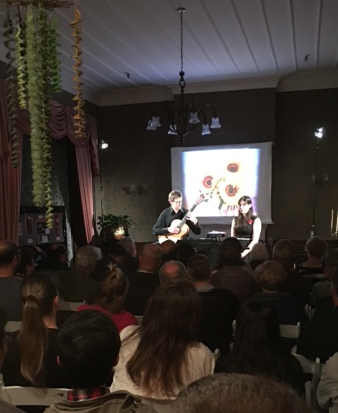 A poem entitled "Gallipoli Peninsula" by Alistair Te Ariki Campbell, read sensitively by David Nutt, lead beautifully to a set of delicate and touching guitar solos of the Victorian age.  The poetry expressed the thought that despite the horror of all that was going on around them, the men at Gallipoli were able to find delight in small things that reminded them of home and made them feel human again.  The three works, Prelude in F sharp major, Elans du Couer (Heart Impulses) and an arrangement of a Spanish Melody by the Italian guitarist Luigi Mozzani were chosen to reflect those feelings of humanity.

Following the Mozzani, David Nutt joined me in a performance of one of my compositions, "The Sea King's Daughter", by narrating the famous old Russian folk tale about Sadko the fisherman, with prose of his own invention.  The prose precedes each of the seven guitar compositions that make up the work and helps the listener better appreciate the music.  When the final chord of "Sadko's Welcome Home" was struck, there was rousing applause, which suggested that particular piece was enjoyed by everyone.

After a short interval to allow all to stretch their legs, Imogen was back on stage to sing three unaccompanied folk songs; "Blow the Wind Southerly", "Siúil a Rún" (pronounced approximately "Shule Arune") and "A Rosebud in June".  Each of the songs was followed by an original guitar composition - a musical reflection on the song lyrics - that I wrote specially for a future CD release involving voice and guitar.  "Siúil a Rún", a traditional Irish song, echoed the war theme of the concert opening as it is sung from the point of view of a woman lamenting a lover who has embarked on a military career.  The themes of separation and longing, contrast with that of life, togetherness and fertility represented by the final song and guitar piece entitled "Circle Dance".

The concert was rounded off in a pleasing way with a set of contrasting guitar solos by the famous Spanish guitarist composer Francisco Tárrega.  The three works, Danza Mora", "Pavana" and "Marieta - Mazurka", are now famous and part of the "staple diet" of most classical guitarists.  The final work "Fantasy on Themes from Verdi's La Traviata" is an unusual one as it was for a long time known as the work of Tárrega but in recent years has been identified as originally being the work of the earlier Spanish guitarist, Julian Arcas.  I'm not sure what really went on but one theory might be that Arcas bequeathed Tárrega the manuscript, some minor adjustments were made by Tárrega and perhaps publishers later assumed he wrote the entire work.  Either way, the piece provides a stirring end to such performances.

The audience called us back for an encore and the chosen pieces was the 19th century Irish folk song "Believe Me, if All Those Endearing Young Charms".

Turkish apple tea and conversation flowed after the performance with a light supper on offer to all who were able to stay a bit longer.  Some future performance possibilities came to light and I am looking forward to following them up in due course.

Sincere thanks to all involved in the performance, particularly my family who provided the superb supper treats and their time working quietly and efficiently in the background to ensure all went smoothly.