Update - 14th July 2013 - I am delighted to announce that both the Alberton movie and the short film 'Patty's Galop' (two scenes from the full Alberton movie) are now official selections for the prestigious, 6th annual Columbia Gorge International Film Festival (2013) taking place in Vancouver, Washington, USA on August 14th-18th.
Now is time to have fingers crossed for an award. That would be the icing on the cake but we're delighted to have simply made the top cut. At this point in time the Alberton entries are 2 out of 187 films officially selected.
Unfortunately I am not able to attend the festival but I am trying to organize a group of interested people living in or visiting Vancouver Washington to check out the Alberton entries. If you know of anyone who might be interested in the festival I'd like to hear from you. I can't give specific details about screenings as they are yet to be scheduled and will only become available nearer to the dates of the festival.
For further information please refer to "www dot angaelica dot com slash festivals slash 2013cgiff" (please replace 'dot' with a fullstop and 'slash' with a forward slash sign, with no spaces. Alternatively Google search 'COLUMBIA GORGE INTERNATIONAL FILM FESTIVAL'.
Update - 17th August 2012 - The Alberton DVD has been reviewed by Wade Doak, famous New Zealand diving pioneer, oceanographer, anthropologist, book writer and undersea film maker. Read what he has to say here: Alberton "A time travel device"

Update - 4th August 2012 - Followers and supporters of the Alberton project will be pleased to hear that complimentary copies of the Alberton DVD+CD set have been donated to all the schools, churches and libraries in the Mount Albert area. This was made possible due to the generous assistance of the Kerr Taylor Foundation.
A milestone has been reached with the first couple to marry at Alberton receiving a DVD copy as a memento of the historic wedding venue. From now on copies will be given to all couples who hold their wedding ceremony and reception at Alberton.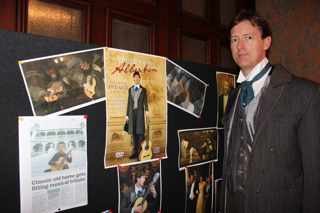 Another milestone reached is the Alberton DVD+CD sets reaching the shelves of the "Museum of Transport and Technology" Shop in Western Springs, Auckland. Entirely appropriate for MOTAT, the DVD includes footage of old technology in use, including the 1871 Swiss music box, the 1908 Erard Piano, the 1938 Morris Eight convertible, the butter churn, the early 1900s "Frister and Rossman" hand cranked sewing machine, the 1930s HMV portable gramophone and more.
Update - 20th June 2012 - The Alberton DVD+CD launch was a great success. The music video suite was viewed by 160+ guests some of whom dressed up in period costumes for the occasion. Afterwards people were generous with praise and one guest described the movie as an 'Artistic Masterpiece'. Others thought the launch was a truly memorable occasion.
Update - 8th June 2012 - The Alberton DVD+CD received great publicity via a Central Leader article today, Friday June 8th. You can check it out by visiting www.centralleader.co.nz and clicking on 'latest edition'. See page 4!
Update - 18th May 2012 - The Alberton DVD launch dates have now been set for Saturday 16th 7.00 pm and 17th June 2.30 pm and will take place at Alberton.
Please note, for reasons to do with seating restrictions, entry is by invitation only at this stage and we're giving priority to sponsors, media and those who were directly involved in making the DVD or have contributed in some way. We'll gauge the response and if seats are still available we will open the door for others to attend. Anyone keen to be on the 'wait list' can contact Alberton and they will take details.
The Stebbing Recording Centre are now preparing the DVD and CD master disks and the artwork proofs are being produced. All is set so that the finished product will be ready for and available during the launch.
Update - 10th May 2012 - This month the Alberton DVD has reached the stage of being prepared for production. The Stebbing Recording Centre engineer has begun work on audio CD mastering and DVD authoring processes. Artwork for the full colour, 24 page, commemorative booklet to be included with the DVD package, is in the final stages of proof reading and colour checking. Once these processes have been completed and signed off, the DVD copies will be made.
So far everything is on track for the launch in June, and soon we will be announcing dates and other details. The launch will involve a world premiere viewing of the music videos at Alberton for invited guests, including all those who were involved with the making of the DVD.
Watch this space for the launch announcement!
Update - 25th March 2012 - Since the last update, the Alberton DVD has been through some serious ups and downs. A month ago we were facing the real possibility that, for technical reasons, half of the video footage taken might have to be re-shot! A huge job almost unbearable to think of! However, following a review of the footage by a senior engineer at Stebbings Recording Studio, the problem has now been dubbed a non-issue. The excellent news is that the music videos have passed expert scrutiny and we've been given the green light to take the DVD to the next stage of making it a salable item.
We are now in the process of checking the historic content of the DVD and making sure all our i's are dotted and t's crossed with the DVD credits. Efforts are also underway to secure sponsorship assistance from local businesses and community groups to help with unanticipated production expenses relating to such things as DVD authoring and the associated bonus publication.
So for those eager to see the DVD, the not so good news is that the release date is now scheduled tentatively for June this year. We apologise for having to change the release date once again but hope that everyone understands we are doing so in order to ensure the best possible quality outcome.
Update - 18th January 2012. View the Alberton DVD preview video here:
Update - January 2012. Happy New Year! During the holiday break the Alberton DVD has been checked with a fine toothed comb and adjustments made. As a result some 'eleventh hour' filming has been planned to further enhance one of the music videos. This won't affect the DVD's likely April release date. The DVD artwork design work is well under way and expected to be ready well in advance of the deadline. One aspect of the DVD package not yet mentioned is the bonus CD. It was decided to include a CD, making it a double disk package, so that those who purchase a copy have the option of playing the CD to enjoy the music on its own. Not everyone has the time to view the DVD on a regular basis but the CD offers more flexibility for listening. Last but not least, the promotional DVD trailer movie is soon to be released. This will give a sneak preview of selected shots from the DVD and give some clues as to what can be expected. Watch this space!
Update - December 2011. This Alberton DVD project has presented challenges far beyond anything a normal classical guitar DVD production would face. It has been quite a challenge to work out how to be creative while remaining within the bounds of historic fact. Also problematic is deciding what details to include and what should be left out. For reasons such as this it has taken much longer than anticipated, when work began back in 2009, to bring the DVD to completion. However it is a real pleasure to announce that the music videos have reached a stage of completion and finishing touches are now being worked on. The DVD artwork is a 'work in progress' and we are busy trying to have everything ready in time for a DVD launch in March or April 2012, to be held at Alberton, and in anticipation of Alberton's 150th anniversary in 2013. Sincere thanks to all those who have had a part to play in the DVD production and thank you for your patience.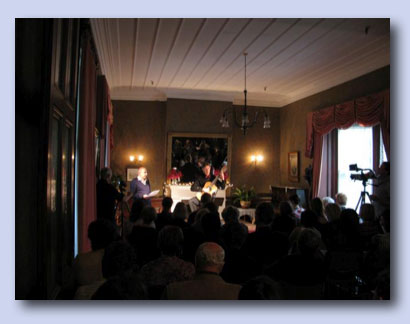 Update - July 2011. Sometimes things do go to plan. The DVD 'Grand Finalé' video footage featuring horses, a vintage car and bagpipes has all been successfully captured. Filming took place at carefully chosen moments between other events taking place at Alberton (e.g. a professional film company took over the house for a month!) and well in advance of the bad weather that winter brings.
The project is now at the final stages of editing and the music videos are being sculpted into a story that highlights some aspects of Alberton's history, and the lives of Kerr Taylor family. Details such as sound recordings and DVD artwork remain to be finalized, but we are still confident that the DVD will be completed by the end of the year.
In the meantime, for those who are interested, a mini-film festival is taking place at Alberton in September. This will be an opportunity to view a variety of films, tv adverts and music videos produced at Alberton over the last two years. It will also be a chance to see the opening sequence of the Alberton DVD. Please contact Alberton for further details phone 09 846 7367.
Update - January 2011. Well, as the saying goes, good things do take time and this cannot be more true of the Alberton DVD project. It's been a real labour of love for all involved and is taking much longer to complete than expected. The good news however is that eight and a half of the ten music video sequences have been filmed and edited. Just one more video sequence - the grand finale - remains to be done. Sound recordings and the historic narrative aspect of the DVD are taking shape and gradually being worked on while preparations for the grande finale are in progress.
When will the completion date be? That very much depends on how the year goes as Alberton has a very busy schedule and all things relating to the DVD have to be fitted around the various events of 2011. However we are hopeful of having most filming tasks completed towards the middle of the year and a finished product before the end of 2011. A bit vague sorry but that's how it is! Needless to say, once the DVD is completed there will be a great fanfare announcement of it's arrival!
Overview: Bruce Paine's concert on the 5th December 2009 marked the beginning of his latest and most ambitious project yet. Bruce has written ten music works for a DVD to be made about the historic place Alberton in Mount Albert, Auckland, New Zealand.
A music video is being made for each piece of music, blending concert footage with current and past images of Alberton. These will be released in the form of a DVD, including a separate historic overview about Alberton, in 2011.
Volunteer "actors" from the local community have been involved in several key video shoots at Alberton, including a children's birthday party and a Victorian ballroom scene.
Thanks go to the Kerr-Taylor Foundation for their generous grant towards DVD production costs. Also to supporters of the various fund raising concerts, and to individuals such as Eric and Jill Muncaster for their donations.
The New Zealand Historic Places Trust, Rendell McIntosh, the staff and volunteers of Alberton are also acknowledged for their enthusiastic help in making it possible for the DVD to go ahead.