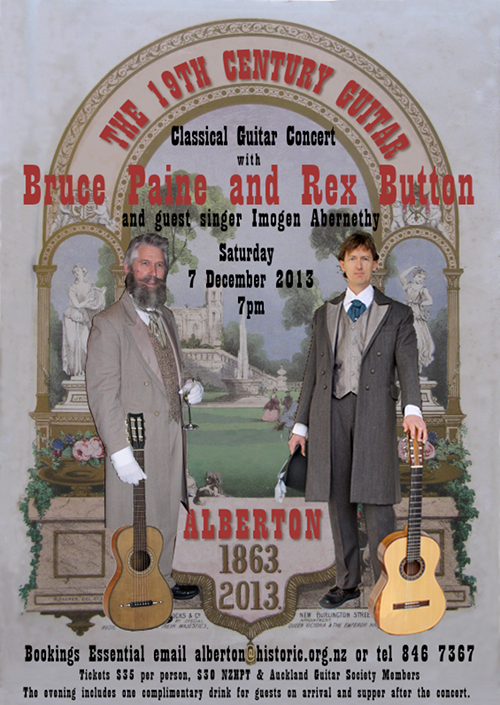 Saturday 7 December, 7pm
Venue: Alberton, 100 Mount Albert Road, Mount Albert
Bruce Paine and Rex Button will present The 19th Century Guitar' Tribute to Alberton as part of anniversary celebrations for the Mt Albert property.
The guitar duo will perform 19th century guitar solos and duets on a magnificent 1823 Panormo guitar and three reproduction period instruments. The programme will include original guitar music by Fernando Sor, Julian Arcas, Francisco Tarrega, and transcriptions of piano works by Charles Bonnington, William Vincent Wallace, Frederic Chopin and Johann Strauss II.  A performance of one of Bruce's popular compositions Seringapatam, inspired by Alberton's architecture, will be a special feature of the concert.
Bruce and Rex will also be joined by young Auckland singer Imogen Abernethy in performances of a selection of songs from the Victorian period, including the 1863 work Ange's Visits from the Alberton music collection.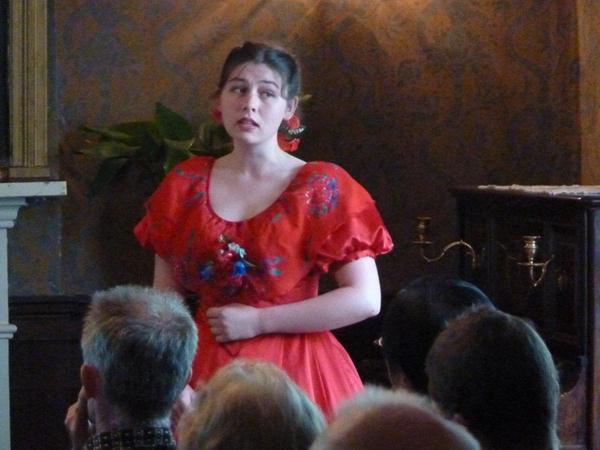 Guests will receive one complimentary drink on arrival and supper after the concert.
Also on offer is one complimentary copy per guest of Bruce Paine's first CD Recital for Guitar.  Other titles including the Alberton DVD+CD will be for sale during the performance.
$35pp, $30pp for Auckland Guitar Society members and members of the NZ Historic Places Trust. Children free (up to 13 years) if accompanied by two adults. Please note: Young children need to be able to sit quietly throughout the performance. Suitability is left to parents' discretion.
The programme will include music by Fernando Sor, Frederic Chopin, Francisco Tarrega, Julian Arcas, Gilbert and Sullivan, William Vincent Wallace, Franz Wilhelm Abt, Johann Strauss II and Bruce Paine.