The Alberton CD tracks are available for download via iTunes for download to iPods and other similar electronic devices.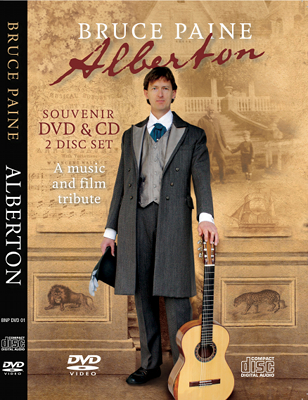 The music tracks are recordings of Bruce Paine's original classical guitar music composed between 2009 and 2012.  Included is the Music Box Waltz track, as broadcast on Radio New Zealand Concert, featuring the sound of an 1870s music box which slowly gives way to guitar variations on the same piece.
The recorded instruments are concert model 'Capper Guitars' made by famous New Zealand luthier Rod Capper. The guitar seen on the album cover is number 62 made from spruce and Australian Blackwood with a raised Fingerboard.
CD Track Digital Downloads
The Alberton CD 'audio only' tracks can now be purchased either individually or as an album from iTunes, CD Baby, Google Music Store, Amazon MP3 and other outlets.
Track Listing
Sea Shanty
Mountain Muse
Seringapatam
Alberton Waltz
Comfortude
Tuis and Daffodils
Annie Laurie Variations
Patty's Galop
Music Box
Alberton Duet