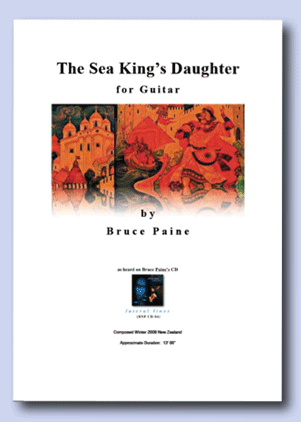 Please note:  This sheet music is no longer available as an electronic download.
Printed copies of selected sheet music titles are available here and via the Centre for New Zealand Music web site.
This original guitar solo features seven individual pieces each inspired by scenes of a famous Russian folk tale.  The sections are entitled; 'Sadko's Zither', 'By the River Volkov', 'Sad Song', 'Voyage to the Sea King's Palace', 'The Sea King Dances Up a Storm', 'Temptation and Return to Novgorod', and finally 'Sadko's Welcome Home'.  Each of the pieces can be played separately and work well on their own.
As recorded on Bruce Paine's CD Lateral Lines

Listen to a sample clip of the Sea King's Daughter 
Download and try page one here