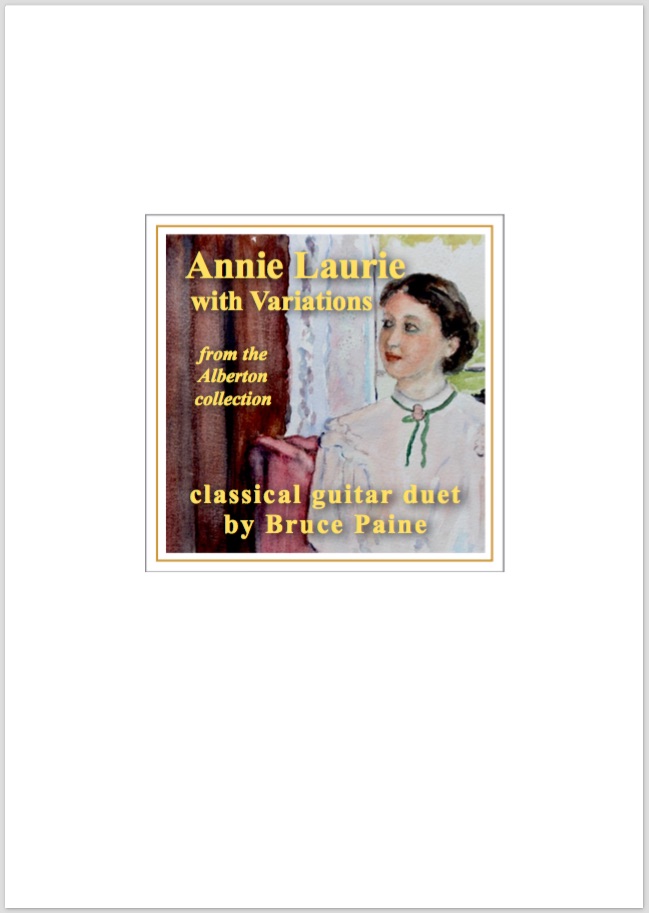 Offered here is a printed copy of the Annie Laurie Variations for Guitar Duet sheet music.
Includes: score booklet and separate parts printed on A4 sheets (tri-fold copies are available at extra cost.  Please refer to the sheet music order form for pricing.) 
Difficulty : About grade 8
Technical Note : Guitar two requires 6th string tuned to D.  Guitar one requires standard tuning.
Try page one

NZ$30 plus postage and packaging
Pay with Paypal
Please note this option includes NZ$4 postage and NZ$1 towards admin costs.
About
This is a guitar duet setting of the famous and much loved Scottish ballad Annie Laurie. It is based on a set of piano variations by Irish born composer William Vincent Wallace (1812 - 1865). This guitar duet arrangement closely follows the format of the original but with new ideas and changes that were necessary to suit the voice of the guitar. This heart warming piece is featured on Bruce Paine's DVD on the Auckland historic house Alberton and forms part of a special tribute to the music loving Kerr Taylor family.
Read more about Irish musician William Vincent Wallace here.