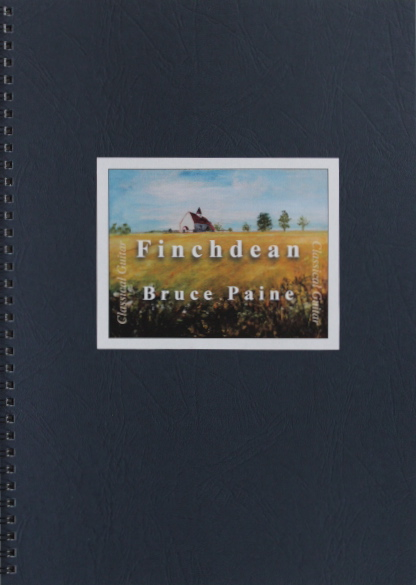 Offered here is a sheet music booklet with two scores in one; Finchdean original & simplified version.
NZ$30, includes postage and packaging
Difficulty : Original : Advanced, Simplified : About Grade 8
Technical Note : Requires capo on the third fret.

Buy Now with PayPal

About
This composition for solo guitar, inspired by English countryside and a 14th century chapel, is Bruce Paine's most popular work.
Finchdean has been performed in countries around the world including New Zealand, Australia, England, France, the Czech Republic and Mexico. It is a popular choice for guitar students sitting advanced University level performance exams and has been accepted by the Trinity College of London as valid FTCL level exam repertoire.
The music comes with a bonus score, a simplified alternative version that uses triplet figures instead of the cross-string tremolo. Still a challenging piece in its own right but allowing advanced players some respite from possible right hand tension. Note that this edition of the full Finchdean version includes a few small but effective changes to the original. Requires a capo on the 3rd fret.

Listen to a sample clip of Finchdean recording
Download and try page one here

Download and try page one of the simplified version here