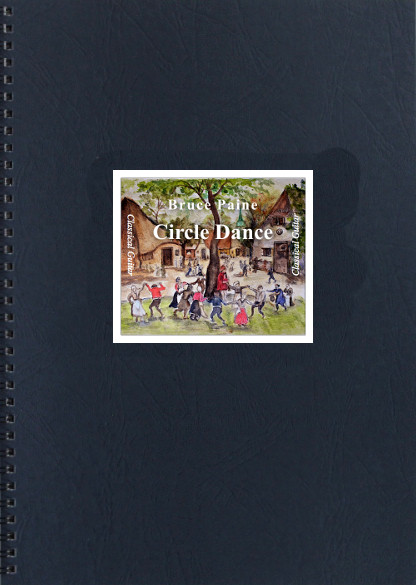 Offered here is a printed copy of the Circle Dance sheet music booklet.
NZ$33, includes postage and packaging
Difficulty : About grade 8
Technical Note: Requires a SpiderCapo or prepared standard capo as per instructions.
Buy Now with Paypal

About
Circle Dance is one of a set of compositions that are reflections on British folk songs. The piece was inspired by the following selected words from the English folk song, A Rosebud in June about English country life, people living off the land and celebrating the arrival of summer..
It's a rosebud in June and the violets in full bloom
And the small birds singing love songs on each spray.
We'll pipe and we'll sing love
We'll dance in a ring love
When each lad takes his lass
All on the green grass,
And it's, oh, to plough where the fat oxen graze low
And the lads and the lasses do sheep shearing go.
Try page one