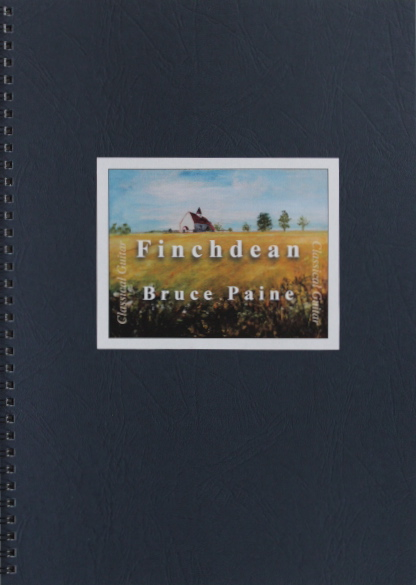 Offered here is a printed copy of 'Intermediate Finchdean' - a simplified version of the original Finchdean.
NZ$25, includes postage and packaging
Played with capo on the 3rd fret.
Difficulty : Intermediate, about Grade 5
Buy Now with Paypal
About
This composition for solo guitar is intended for intermediate level guitarists and is a condensed version of Bruce Paine's advanced piece Finchdean. This version retains much of the character of the original wile being within the reach of intermediate level players. As a point of reference for judging difficulty, the music is just a bit easier than Leo Brouwer's Estudio Sencillos (Simple Study) number 6. The piece is inspired by English countryside and a 14th century chapel, and is Bruce Paine's most popular work.
Based on Finchdean for advanced players but with about half the number of bars and 1419 fewer notes, this is an appealing piece that retains much of the character of the original.
A recording of Finchdean Intermediate (also known as 'Return to Finchdean') exists on Bruce Paine's 2018 cd album 'The Selwyn Recital'.
Page one of the score can be tried here...
Download and try page one here