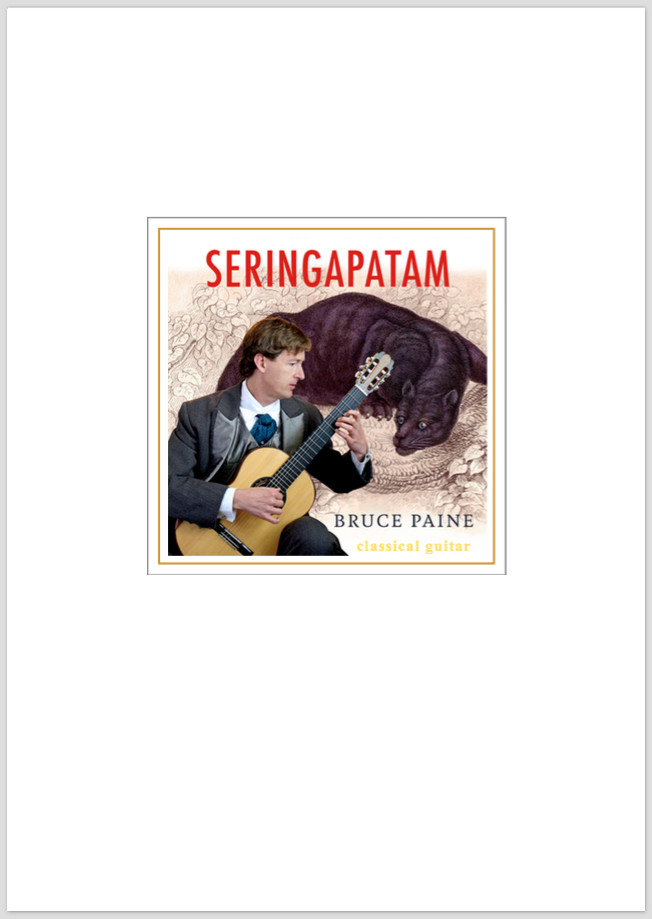 Offered here is a printed copy of the Seringapatam sheet music.
Difficulty : Moderate.
Technical Note : The 5th string is tuned to G and 6th string tuned to D.
NZ$20 plus postage and packaging
This title has been available at www.brucepaine.co.nz for a while now as a free download but here is an opportunity to secure a beautifully presented, official copy of the sheet music direct from the composer.
Pay with Paypal
Please note this option includes NZ$4 postage and NZ$1 towards admin costs.
About
This composition for solo classical guitar is a musical tribute to Seringapatam, a town in the Mandya district of the Indian state of Karnataka and place of great religious, cultural and historic significance. The music was specially composed by Bruce Paine for his music DVD Alberton (BNP DVD 01) about the iconic 1863 homestead Alberton in Auckland New Zealand. The name Seringapatam was chosen in 2009 because it was then understood to be the birth place of the founder of Alberton, Allan Kerr Taylor.   However, in 2018 details of Allan's baptism record emerged and revealed that he was baptised in Negapatam on 9th January 1832, the son of Lieutenant-Colonel William Taylor of the 39th Madras Native Infantry.