Bruce Paine had a fascination for the guitar from a very early age and gave his first guitar performance at the age of eleven before his censorious school assembly of peers at Wesley Intermediate School, Auckland. He didn't grasp his capacity for performing until much later, because it was another fourteen years before he embarked on full-time study of the classical guitar at the University of Auckland. His love of the guitar and a desire to develop his musician's skills helped him decide to change from a career in Computer Programming to the scholastic pursuit of music.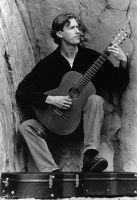 Following four years study, having completed a Diploma in Music with honours, Bruce attended the 1995 Shell Darwin International Guitar Festival and Competition, in which he became a semi-finalist and participated in masterclasses with internationally renowned guitarists John Williams and Stepan Rak.

A well known Auckland classical guitarist, Bruce has appeared as guest guitarist with the Auckland Choral, the Auckland Philharmonia Orchestra and as soloist with the St Matthews Chamber Orchestra in a performance of Joaquin Rodrigo's Concierto de Aranjuez. He has also appeared on TVNZ and Dunedin's Channel Nine.

In 1998, Bruce took his guitar and music to audiences in Austria, the Czech Republic and Great Britain. The highlight of this European tour being a shared concert with the Czech virtuoso guitarist and composer, Stepan Rak, at the prestigious Dum U Kamenneho Zvonu (Stone Bell Palace) in the heart of Prague. A concert in England marked the beginning of friendship with and respect for UK guitar composer and teacher, Derek Hasted, and members of the Derek Hasted Guitar Orchestra.

Since being established as a Radio New Zealand recording artist, Bruce has found a passion for recording and has been involved in a range of different projects. He has to date released seven solo guitar CD's including Guitar@Museum that was recorded in the impressive grand foyer of the Auckland War Memorial Museum. Two of Bruce's albums, Lateral Lines and Tonewood and Bearclaw, feature the amazing acoustics of St Michael's catholic church in Remuera Auckland.
While he has a real love for traditional classical guitar repertoire, Bruce is not afraid to explore new possibilities. From 2007 he wrote, performed and recorded a collection of his own solo guitar compositions. For these he drew inspiration from various images including underwater sea life, New Zealand scenery, an English country church and a Russian folk poem. The resulting pieces all appear on his CD Lateral Lines released in June 2008. In 2009, these debut recordings were described by Wellington based guitarist Gunter Herbig, as "a wonderful achievement and a milestone for New Zealand guitar composition, deserving a wide and international audience and exposure." This was genuinely meant, as Herbig went on to perform his own interpretations of a number of Bruce's works, making recordings for the NAXOS Records label. The two albums 'Dream Weaving' (2017) and 'Waitemata Reverie' (2018) are named after two such compositions.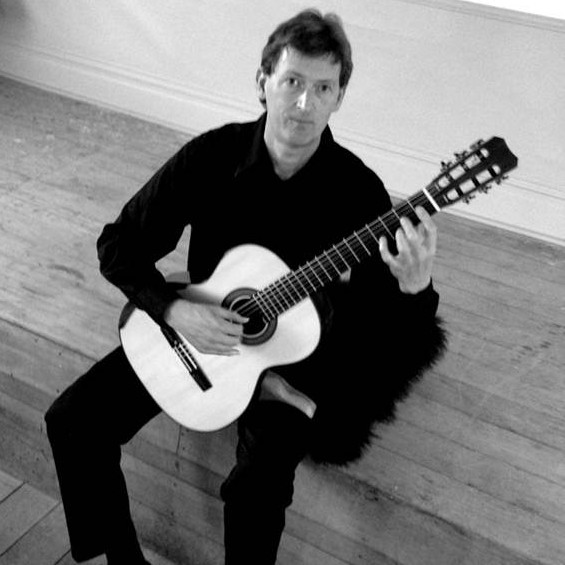 Bruce's most ambitious composing and recording project, completed in 2012, was a feature length music video with guitar music inspired by the historic place Alberton. In 2014 he composed a song cycle entitled Roto Boys consisting of five songs with lyrics sourced from texts written by soldiers involved in the Gallipoli campaign at the start of World War One. Two of the songs were broadcast by Radio New Zealand National during ANZAC weekend in April 2015, coinciding perfectly with the 100th anniversary of the first landing of New Zealand and Australian troops in Gallipoli. In 2016 he completed two suites for the New Zealand Guitar Quartet along with a duet version of Finchdean.
Drawn to his New Zealand environment for inspiration, Bruce finds ways to create deeply satisfying, original compositions with his own unique musical signature. He has written works for guitarists Barkin Sertkaya (Auckland), Gunter Herbig (Wellington), John Couch (Canberra), members of the New Zealand Guitar Quartet and Duo Tapas (Wellington.) He has also received commissions from guitar groups Trio Resonance (North Texas), Guitar Otautahi (Christchurch) and Con Tempo (Taranaki).
As a classical guitar composer Bruce aims to write music that is original, imaginative and accessible to as many listeners as possible. He is proud of the fact that his compositions are being broadcast on New Zealand radio as well as being embraced by student and professional guitarists alike.