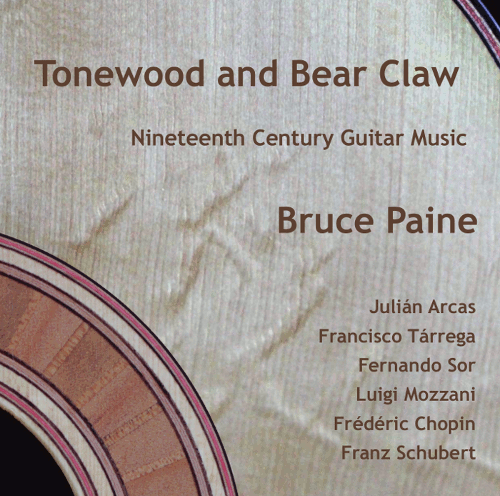 This is Bruce Paine's 2015 release featuring 19th century classical guitar music played on copies of traditional instruments by London maker Louis Panormo and Antonio Torres of Andalucía, Spain. 
Beautifully recorded at St Michael's Church and meticulously mastered by Paul McGlashan of Classic Sound, Auckland, New Zealand.  The album features music by Francisco Tárrega, Fernando Sor, Frédéric Chopin, Franz Schubert, Luigi Mozzani and Julián Arcas.
Order CD copies here:
All customers can purchase copies via the following PayPal buttons.
Postage and packaging is included in the price.
$5 discount per disk applies if ordering multiple CDs at a time.  Use the appropriate 'Buy Now' button below or download the order form if you are a New Zealand customer.
Single CD - Price $25.00
New Zealand customers can download the following order form. 
Payment can be made by cheque or direct debit. 
The form includes a tear-off form for mail orders.
Please enter the quantity required and payment amount as required.
Catalogue Number: BNP CD 06