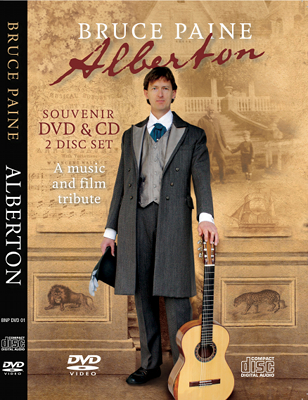 Bruce Paine, Classical Guitarist
For Immediate Release
Exciting Music Project
launches DVD & CD in June
30 May 2012

New Zealand classical guitarist Bruce Paine, is completing an exciting music project that culminates in a DVD and CD launch next month.
The Auckland-based musician has created an artistically crafted classical guitar music video combining concert footage, historic images and period scene re-enactments to mark the 150th anniversary of Alberton next year.
Entitled Alberton, the 2-disc DVD and CD set celebrates the iconic Mt Albert mansion which was once the home of the pioneering Kerr Taylor family and is now cared for by the NZ Historic Places Trust.
"This has been my most ambitious project to date, composing 10 new guitar works and filming a separate video sequence, each celebrating a different aspect of Alberton's history  – all brought together in this DVD/CD set," says Bruce.
"It's been a lot of hard work, but I am delighted with the results."
Inspired in part by childhood visits to Alberton, Bruce Paine's connection to the historic house was reawakened three years ago when he and his family were filming an Antiques Roadshow spoof in the grounds of the historic mansion. Drawn to the house as a performance venue, his somewhat unlikely initial encounter was followed by a number of successful live concerts in Alberton's ballroom.
"I sensed there was more to be done with the house, and so my thoughts turned to writing a series of classical guitar pieces inspired by Alberton, which historically was the equivalent of a Colonial Auckland family's country farm," says Bruce.
"I wanted the result to be a treat for music lovers, combining sumptuous cinematography with beautifully mastered recordings – all performed live at Alberton."
Video footage has been shot and edited for each piece of music, and then blended with current and historic images of the house. The result is an extraordinary musical journey celebrating the heritage of one of Auckland's most stunning historic buildings.
Historian and author of In Old Mt Albert, Dick Scott, has had a sneak preview of the DVD and is enthusiastic about the finished product.
"I really loved watching the DVD. I enjoyed Bruce's wonderful new classical guitar compositions and also learning about Alberton and the Kerr Taylor family, and their contribution to Auckland and New Zealand's rich heritage," he says.
"The DVD is a treasure to help commemorate the 150th anniversary of the house being built and for future generations to learn of our past."
The Manager of Alberton, Rendell McIntosh, is also enthusiastic.
"Bruce Paine is one of New Zealand's foremost classical guitarists and has performed concerts in England, mainland Europe and New Zealand," he says.
"We've seen the results of Bruce's work, and we're thrilled and honoured to have been a part of this project."
The World Premiere of the unique music DVD will take place on June 16 at Alberton – the building that provided the inspiration for the recording project – and Bruce is hopeful
that future sales of the DVD will recover costs and raise money for the NZHPT, as well as help fund some of Bruce's future arts endeavours.
A taste of Alberton is available on You Tube.  Log on to
http://www.youtube.com/watch?v=XXBzED_fHX8
Also via Facebook here
http://www.facebook.com/nzguitarist
Bruce Paine and the NZHPT are grateful to all sponsors and supporters who have helped make the DVD possible including Barfoot and Thompson Mt Albert, the Freemasons of New Zealand Titirangi and Mt Albert Lodge 204 and the Rotary Club of Hillsborough, Lynfield and Mt Roskill.
For further information about the Alberton DVD, the following PDF is available for download:
###