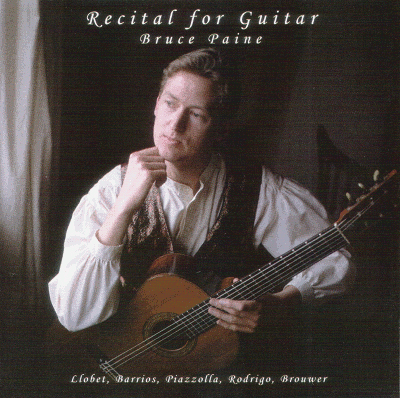 This is Bruce Paine's debut classical guitar CD. It offers a satisfying mix of Spanish and South American guitar music, while presenting lighter pieces alongside some of the most challenging works available in the classical guitar repertoire.
"Recital for Guitar is a delight"
New Zealand Musician Magazine Oct/Nov 1997
"Recital for Guitar" Track List and Audio Samples
Order CD copies here:
All customers can purchase copies via the following PayPal buttons.
Postage and packaging is included in the price.
$5 discount per disk applies if ordering multiple CDs at a time. Use the appropriate 'Buy Now' button below or download the order form if you are a New Zealand customer.
Single CD - Price $25.00
Two copies. Price $40.00
Three copies. Price $60.00
New Zealand customers can download the following order form.
Payment can be made by cheque or direct debit.
The form includes a tear-off form for mail orders.
Please enter the quantity required and payment amount as required.
Catalogue Number: BNP 01 CD